Painted Playground Promotes Precious Skills!
---
South Knoll Elementary
lead teacher: amber herbelin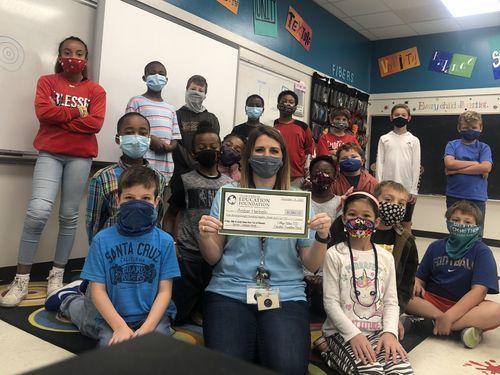 "A Hop, Skip, and Jump Away from Fun at Recess!"
Students are a hop, skip and a jump from learning and fun at South Knoll Elementary. The Outdoor Sensory Playscape was created by the art teacher, painted by teachers and volunteers, and funded by an innovative teaching grant.  South Knoll Tigers in Head Start through 4th grade now have an alternative to playground equipment that promotes physical activity and reinforces math and reading concepts.
The beautiful play and learn space has far-reaching benefits.
New games provide students new options for engagement at recess.
Activities draw in kids who typically sit and do nothing outdoors.
Partner and group games build teamwork, communication, and sportsmanship. 
Activities add all-inclusive options for children with special needs.
Outdoor games promote health and wellness.
Activities build reading and math skills.
The jump into learning project was made possible by a grant of $1,800 and impacts 600 kids. Hop, skip, hooray for Culpepper Realty who sponsored this grant! 
CLICK HERE to explore other Education Foundation Showcase Grants!
Thanks to all the painting volunteers!
Painting the Outdoor Playground and Sensory Paths