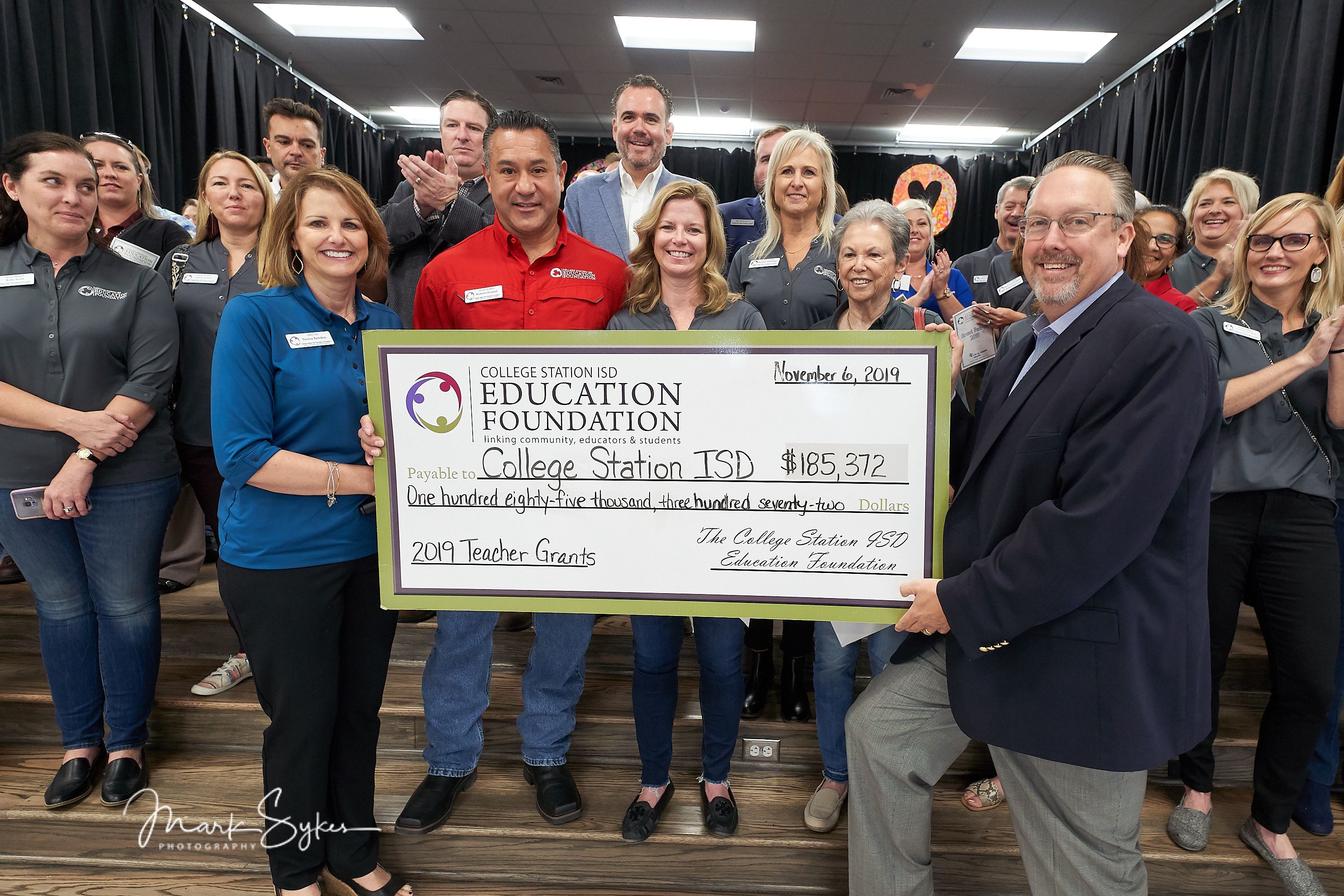 FOR RELEASE:
November 6, 2019
The College Station ISD Education Foundation awarded 60 innovative teaching grants totaling $185,372 during its annual Grant Patrol sponsored by CHI St. Joseph Health.   Foundation grants span an array of disciplines including STEM programs, literacy initiatives, career training, leadership development, flexible seating, fine arts and special education. Creative projects are funded at all 19 campuses and will impact thousands of students.
"The Innovative Teaching Grant Program has a mission to inspire and reward creative instructional approaches in the classroom that enhance the educational experience for many students," shared Heather Simmen, Education Foundation Board President. "Grant Patrol is an exciting day to surprise and present grant awards to teachers." 
Grant Patrol consists of Education Foundation board members and donors, along with the A&M Consolidated and College Station High School cheerleaders, mascots, and drum lines that visit CSISD campuses to award grants to this year's winners.  Each winning teacher is surprised with a check and cheering presenters to mark the occasion.
"The College Station ISD Education Foundation has generously supported the district for more than 20 years," said CSISD Superintendent Dr. Clark Ealy.  "Their financial partnership will impact nearly 14,000 students and 2,000 teachers and staff by empowering leading-edge initiatives in the classroom."
The CSISD Education Foundation has awarded 573 teacher grants totaling $1,484,463 since its inception in 1999.  Many businesses and community members make these grants possible through fundraising events and donations.  This year's Pillar Sponsor is CHI St. Joseph Health, and Founder Level Sponsors are C.C. Creations, Caldwell Country, Copy Corner, Culpepper Realty, HEB, and Rife Law Firm.  The CSISD staff also has supported the Education Foundation by donating over $151,000 through the employee giving campaign this year.    
"There is a great need for continued funding for our schools, and it is imperative that we raise support for excellence in public education," commented Education Foundation Director Teresa Benden. "We are humbled and grateful that our entire community comes together to support the education of local kids."
The Education Foundation accepts grant applications annually in the fall from district teachers and staff for the development and implementation of innovative teaching programs within the classroom. Grants are awarded for programs which are not otherwise funded by tax dollars.  Grants are selected by a committee comprised of board members and district curriculum/instruction staff.

For more a complete list of the grants awarded visit givetokids.csisd.org.  For more information, please contact Teresa Benden (979)-964-5615 or tbenden@csisd.org.