Eat, Drink, Give to Kids!
---
 ! 

 
50 Men Who Can Cook has been moved to April 2021.
2020 50 Men Who Can Cook Winners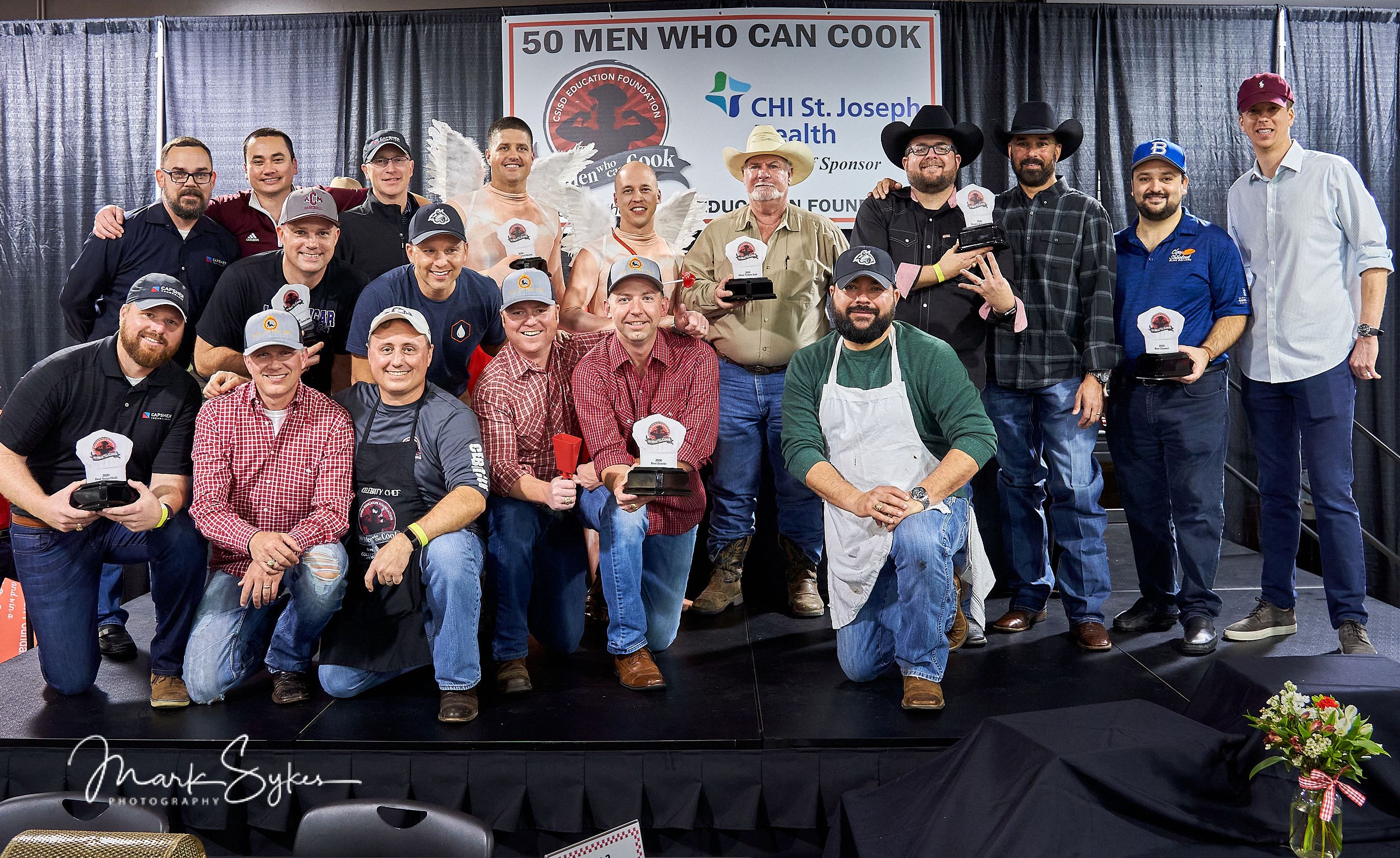 BEST APPETIZER, SALAD OR SIDE

Oakwood Intermediate/A&M Consolidated Middle, Josh Symank, Rocco Grande & Omar Espitia, "Ultimate Jalapeño Poppers"

BEST SOUP/CHILI

CAPSHER Technology, Randy Trenary, Kyle Ervin & Mark Nolan, "Pork Verde"

BEST ENTREE

BEST ENTREE: True Brown, Justin Lake & Darin Paine, "Ring of Fire BBQ"

BEST DESSERT

Blinn College Foundation/Stylecraft Builders, Doug French & Phil Shackelford, "Panna Cotta"

BEST DECORATED BOOTHAdam Snidow & Brett Lawler, CC Creations, "Red Velvet Cupcakes"

ROOKIE OF THE YEAR

Southwood Valley Elementary/Martin Marietta, Caleb DeLuna & Doug Fuentes, "Pork Belly Burnt Ends"

MOST TICKETS SOLD

John Morgan, Webber Commercial Construction
---
How it works...
Local community and school leaders are selected to prepare their recipe of choice including salads, soups, sides, entrées or desserts.  Each Celebrity Chef is asked to bring 800, 2 oz. samples for our guests to taste at the event.  Tickets are $60 each which gets you entrance into the event and includes all the food you can taste and adult beverages of your choice.  This year mystery bags and a raffle will offer guests opportunities to support our schools.  You also get to vote for your favorite appetizer/salad/side dish, soup/chili, entrée, and dessert for the awards that will be presented at the end to our Celebrity Chefs.  This is an "adult-oriented" event and guests are discouraged from bringing children.
---