Let us tell you a story
---
The College Station ISD Education Foundation is pleased to provide opportunities annually for our teachers to apply for innovative teaching grants. The mission of these grants is to bring innovation and excitement into our classrooms.
Here are some of the great ideas by CSISD teachers this past school year!
"Chemistry Road Show"
College Station High School and South Knoll Elementary
College Station High School teacher, Jeremy Dockan and AP Chemistry students developed and performed demonstrations in a Chemistry Road Show for South Knoll Elementary first graders to grow their excitement for science! This show was part of a collaboration between Mr. Dockan and South Knoll teacher Ashley Dockan which was funded by an Education Foundation teacher grant and sponsored by Stylecraft. Great job CSHS "Lab Rats"!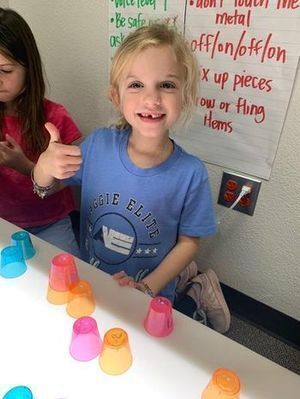 "Bringing Learning to Light"
Spring Creek Elementary, Victoria Dean
Learning shines bright when 1st graders discover subjects through sight and touch. The sensory experiences enlighten reading, math and science. Hands-on practice and colorful elements help kids maintain focus to build foundational language and numerical understanding. The $1,400 grant illuminates the curriculum for 20 students every year, and is sponsored by Matt & Kim Ege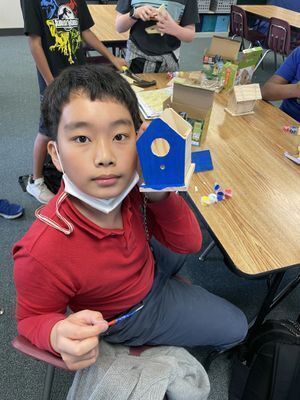 "Young Men's Club"
Cypress Grove, Josh Sonnenberg
Hi, nice to meet you. The Young Men's Club introduces life skills and provides positive mentor relationships. Young men-in-training learn etiquette, proper hygiene, basic cooking and handyman skills. The club fosters healthy habits and real world skills that help boys improve academics, behavior and social skills.  The seed grant of $1,000 grows strong men for life, and is sponsored by Mark & Teresa Benden.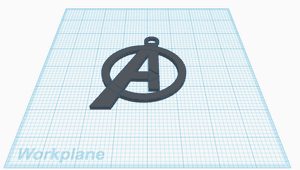 "Creating an Innovative Future"
CSMS, Eric Zylman
Emerging engineers are developing advanced skills with 3D printers. Students in 7th and 8th grade learn to draft engineered drawings, use CAD software, and produce an original object in the Principles of Applied Engineering class. The process of design, computation and instrumentation creates innovative career paths for 140 students each year.  The grant of $2,000 is sponsored by TDI-Brooks International, Inc. 
"Sounds All Around"
River Bend Elementary, Judy Bratcher
Listen to the "sounds all around" made on the outdoor musical instrument at the River Bend Elementary playground. The chimes help kids learn about music and science by creating harmonies, matching pitch and exploring the science of sound. These 3rd grade girls created their own song using a pentatonic scale! The grant of $5,000 hits the right note for 525 students in PreK-4th grade. The fine arts project is sponsored by Century Square.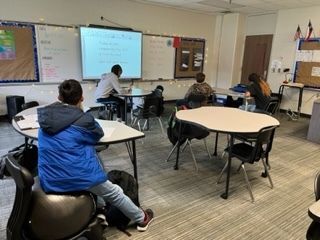 "Flexible Seating"
CSMS, Shannon Esparza
Wobble stools, floor pillows, balance balls and bean bags help students with special needs feel welcome and ready to learn. The flexible seating options support focus and concentration for 85 students in special education and co-teach classes. The investment of $2,500 saves a seat for this underrepresented population, and is sponsored by Wilton's OfficeWorks.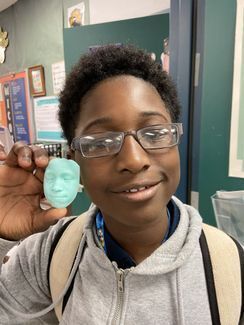 "Honey I Shrunk the Art Room"
 Cypress Grove, Christine Grafe, 
The Revopoint 3D Scanner shrinks your image and grows your imagination!  3D technology expands artistic expression with multidimensional exploration. Testing the tech, students have paired the scanner with the 3D printer to "shrink their face" and got big laughs!  Scan the $660 investment to produce hi-tech learning for 300 innovative artists every year.  The project is sponsored by Schultz Engineering.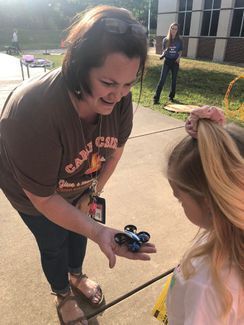 "Flying Full STEAM Ahead" 
Forest Ridge & AMCHS, Pam Beard 
Future educators and young pilots teamed up to fly high for this multi-campus drone project. High school students in the Ready Set Teach program learn how to develop STEM curriculum and lessons, then practice teaching elementary students. Using innovative drone technology builds skills and excitement for all levels of students, and drones will be utilized for STEM Nights and Genius Hours.  The investment of $3,000 helps learning take flight for over 600 kids, and is sponsored by Mark & Teresa Benden.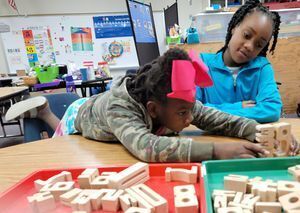 "Exploring Numbers"
Rock Prairie Elementary, Mary Worley
Discover division, move multiplication, admire adding and see subtraction with hands-on number kits. Students in K-4th grade see and hold numbers to grasp math concepts. Young mathematicians make numerical connections with these multidimensional tools. The $100 grant multiplies learning for 20 students each year and is sponsored by Capturing Kids' Hearts.