Let us tell you a story
---
The College Station ISD Education Foundation is pleased to provide opportunities annually for our teachers to apply for innovative teaching grants. The mission of these grants is to bring innovation and excitement into our classrooms.
Here are some of the great ideas by CSISD teachers this past school year!
"Chemistry Road Show"
College Station High School
College Station High School teacher, Jeremy Dockan and AP Chemistry students developed and performed demonstrations in a Chemistry Road Show for South Knoll Elementary first graders to grow their excitement for science!  In year two, the "CSHS Lab Rats" chemistry show was expanded to other elementary campuses with a traveling trailer and more supplies for experiments! Thanks to Stylecraft and CC Creations for sponsoring this ingenious grant!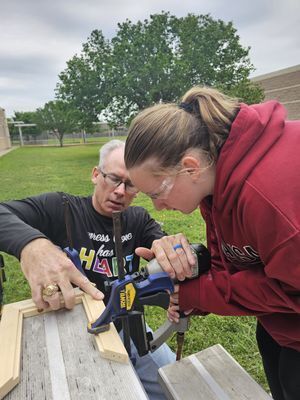 "Construction Science Lab"
Cypress Grove Intermediate, Matthew Herring
They can fix it! In the Construction Science Lab, students are learning the importance of tool safety, tool identification, proper tool use, and implementation of construction knowledge by creating strategic projects in their after-school club.  The $951 grant also allowed students to plan a project and use their skills to make improvements to existing playground equipment.  Thank you to Stylecraft for sponsoring this grant.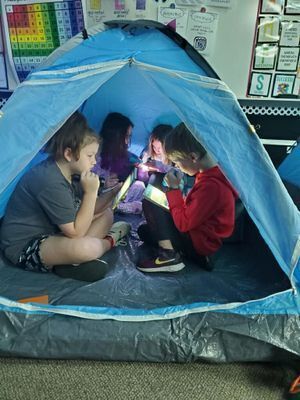 "Full Immersion: Classroom Transformations to Foster Maximum Student Engagement"
Greens Prairie Elementary, Michelle Lindner
Camping in the Classroom? Third-grade teachers transformed their classrooms into a racetrack, campsite, spy room, construction zone, or sweet shop to engage students in their learning. These themed lessons encouraged students to take a deep dive into reading and other fun activities! Thank you Matt & Kim Ege for sponsoring this grant!
"Students Helping Students; Build a Computer Lab"
AMCHS, Trey Bevans & Michael Howard
Students in high school Computer Maintenance, Networking, and Cyber Citizenship classes collaborated to assemble computers, install their software, and deploy them in a computer lab at A&M Consolidated Middle School. These computers will outfit a whole computer lab which and used by the entire 7th and 8th-grade campus. This $13,947 grant sponsored by St. Joseph Health is building real-world skills in College Station ISD Career & Technical Education classrooms! 
"The EdTech Cohort"
District-wide, Lauryn Fiechtner
With a two-year $50,000 investment from the Education Foundation, the EdTech Cohort is supporting and developing instructional technology leaders in CSISD by providing them with a 1:1 technical device environment, instructional design support, and professional learning/training. Watch the video to see how this grant sponsored by St. Joseph Health and Caldwell Country Chevrolet is bringing technological innovation to the classroom!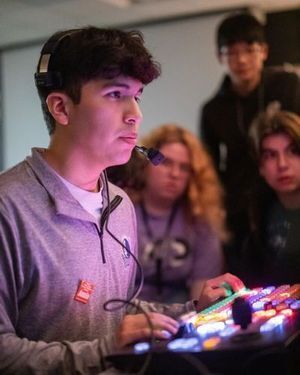 "Unlocking the Air Waves for Modern Live Streaming "
CSHS & AMCHS, Stephen Green & Taylor Gade
Audio/Video Production students are using cutting-edge broadcasting equipment to provide ultra-high-definition live streams of events and performances within their schools thanks to a $15,000 grant sponsored by The Rife Law Firm. With the purchase of industry-standard equipment, students will be exposed to modern industry standards and vastly increase the quality of the videos they produce. The benefits of this grant will directly affect high school campuses and viewers in the greater B/CS community.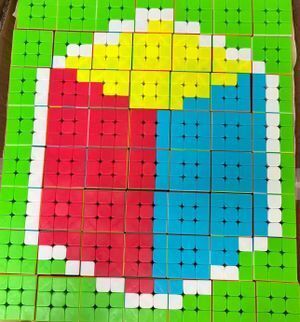 "Totally Cubular!"
 Greens Prairie Elementary, Victoria Dean 
Elementary students are engaging in critical thinking and analytical skills while challenging their minds to create rubiks cube mosaics!  Students are using the cubes to create amazing pieces of modular art and gain satisfaction from their "AHA!" moment when they learned how to solve a face. This puzzling grant of $2,248 was sponsored by Southern Smiles Dentistry!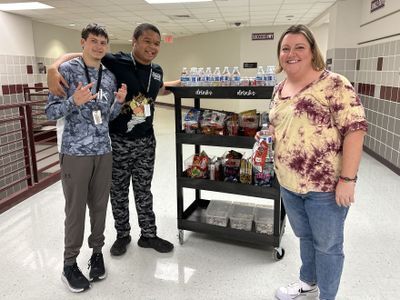 "Spreading Joy with a Happy Cart" 
A&M Consolidated HS, Elizabeth Engelhardt 
Here comes the HAPPY CART!  Life Skills students are spreading joy by delivering free snacks to teachers on a Happy Cart.  This grant helps to build relationships between these students and many teachers who would not normally get to interact with them.   The Happy Cart allows students to be part of their larger school community and practice everyday social and communication skills thanks to grant sponsors Geralyn & Mark Nolan.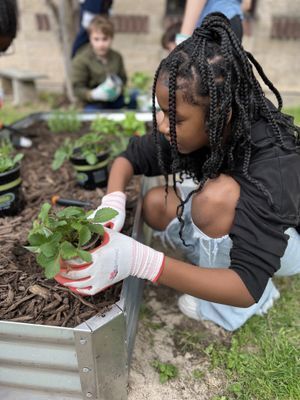 "Weed it and Reap! A STEM Garden Club"
Oakwood Intermediate, Allison Dent
Math and science teachers are guiding students as they work collaboratively in the roles of scientists, engineers, and technicians to tackle garden-based design challenges requiring creativity, ingenuity, and STEM know-how. This $999 club grant is being cultivated by sponsors Jim & Linda Woods