It all adds up to SUCCESS!
We have AMAZING stories to tell about Innovative Teacher Grants in College Station ISD
The College Station ISD Education Foundation is pleased to provide opportunities annually for our teachers to apply for innovative teaching grants. The mission of these grants is to bring innovation and excitement into our classrooms.
---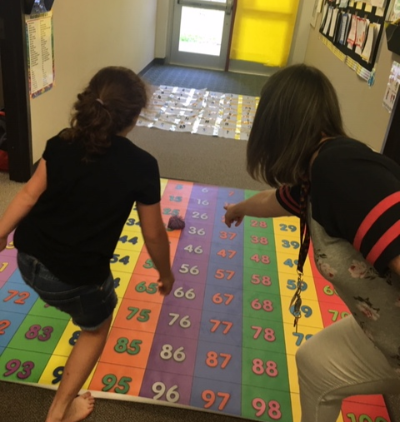 "Move2Math" -College Hills Elementary
Over 700 students at College Hills Elementary can "Move 2 Math"! We were excited to fund this
campus-wide grant that combines motion and math to build skills and confidence. Students have fun in
dynamic classroom activities while they learn foundational math skills necessary for continuing onto
more advanced math concepts. "Move 2 Math" uses graphic floor mats such as Dollar Hop, Bowling,
Pirate Count A Lot, and Fraction Pizza.
---
CYPRESS GROVE COFFEE CART

Students with special needs learn valuable academic, social and customer service skills as they manage the Cats Coffee Cart at Cypress Grove Intermediate. These young workers-in-training practice vocational skills as they sell coffee to teachers every Friday. The project fosters campus connection and encouragement for students and teachers.

CSHS STEAM

Artistic engineers are putting the "art" in STEAM. Engineering students don't always think of themselves as creative. The project, funded by the Foundation, engages students in art and engineering by using 3D printing and laser cutting to create technical art. It's just in "time" with their clock project.
---
GREENS PRAIRIE ELEM - LEARNING THROUGH LEGOS

Would you rather… write 100 facts about animals OR create your own zoo? Zoo, of course, silly monkey! First graders at Greens Prairie Elementary are using Legos to build writing skills and explore science! The "Loving Learning Through Legos" project funded by the Foundation encourages hands-on learning. These proud learners created an animal habitat, then authored an original story to apply what they learned.
---
CVHS - SKETCHY

Things are "sketchy" at College View High School with art and iPad technology! Art students are developing technical art methods and building technological portfolios with the help of a Foundation grant. Growing artists can draw and sketch using a stylus and iPad, opening up new media and creativity.
---
CSMS BREAKOUT BOXES

It's like an "escape room" for science! Investigators at CSMS work together, in a fixed amount of time, to solve a series of challenges, riddles, chemistry and physics problems to "break open the case". The Break Out Boxes were funded by a grant through the Foundation.

CREEK VIEW ELEM BRIDGES

"Through this grant, students understand the connections between reading and math. I put out several books about types of bridges, and the kids were tasked with creating a bridge from paper and tape that could hold a box of crayons up at least 3 inches off the ground. I saw a pair really struggling. All of a sudden, one of the kids eyes light up. She said, "Wait a minute," while grabbing one of the books. She flipped through it and pointed to a picture. Look! We can make this bridge with cylinder supports underneath to hold the weight of the crayon box. She used math and reading together to help her solve her problem."
LEADS - MULTICAMPUS

Intermediate and middle school students built leadership skills and problem solving abilities as they participated in CSISD LEADS, a year-long program rolled out through the support of a Foundation grant. LEADS Ambassadors attended seminars, team building activities and field trips, culminating in a service project. Ambassadors created a reward room and study café at Wellborn MS, a pedestrian pathway at AMCMS, and a community garden at CSMS.

AMCHS 3D BIOLOGY

Biology in 3D is making a dimensional difference! "When reviewing for the AP Biology Exam, students were able to walk through the process and visualize transcription and translation. I was able to see many connections being made with the material they learned. Students were commenting that they understood what things meant now." The 3D models were made possible through a Foundation grant.