Let us tell you a story
---
The College Station ISD Education Foundation is pleased to provide opportunities annually for our teachers to apply for innovative teaching grants. The mission of these grants is to bring innovation and excitement into our classrooms.
Counselors Scheduling Software
$25,000 - District-wide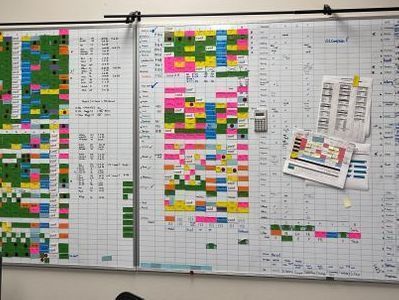 Goodbye white boards and sticky notes...Hello scheduling software! In 2021, the Education Foundation contributed $25,000 towards the purchase of software to assist College Station ISD counselors in the master scheduling process. Imagine trying to determine which of 2,000 students, paired with one of 100 teachers, for which courses, in which rooms, at what time! 
Our dedicated counselors used to plot schedules with white boards, magnetic tabs, colored stickers, spreadsheets, reams of paper and tallies, with hours and hours of hand crunching details. 
The new scheduling tool transforms this tedious, time-consuming process into a strategic effort that maximizes staff time and resources while delivering 90% of students first-choice schedules. 
The investment helps organize 7,500 students and 800 teachers at CSISD high, middle and intermediate schools. We are grateful for our school counselors and are honored to support them in their important work!
---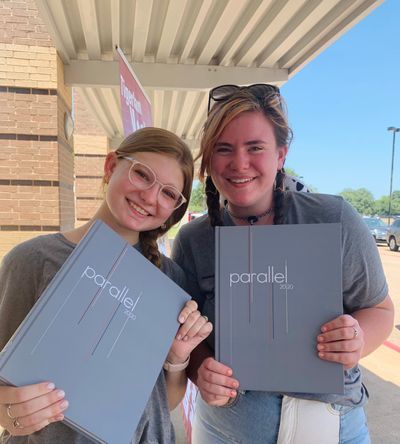 "Empowering Student Productivity and Accessibility: Student Publication Technology Initiative" - AMCHS
This grant saved the yearbook program for the Class of 2020!  At the start of the 2019 fall semester, Consol yearbook sponsor, Freda Carraway hoped that the purchase of laptops and software would offer her students the ability to work minimally on pages at home or for remote reporting. Little did they know with the COVID-19 closures, the ability to work remotely on a program would actually enable the student staff to finish the last two deadlines for the year and be in a position to distribute the yearbook on the originally scheduled date!  Mrs. Carraway said, "We are so blessed that we had this technology so that we could finish a yearbook that will likely be one of the most cherished pieces of memorabilia that these students will own from an unprecedented time in their lives." Special thanks to Dexter Insurance for sponsoring this grant!
---
"Reading with Iggy" - Rock Prairie Elementary

Mrs. Surovik uses social-emotional themed books and "Iggy" the reading dog to help students build coping skills and healthy emotional responses. The counselor teaches class lessons and works with individual students on managing stress, impulse control, showing gratitude, and other character development.

"Morning Minds Engaged" - Pecan Trail Intermediate

Boys and girls develop communication, teamwork and strategic thinking skills in a fun, safe, productive environment, while playing strategy games before school. Morning game time not only provides engaging activities before school starts, it also reduces stress on students and teachers' Thank you Schaefer Custom Homes for sponsoring this project!
---
"I Can See. I Can Learn." - Multi-campus

This grant, in partnership with Dr. Mays and Crystal Vision Center, provided two Photo Vision Screeners, to promote early detection and treatment of vision impairments. CSISD health and nursing staff can now conduct comprehensive screenings for the state-required grades (Head Start, Pre-K, Kinder, 1st, 3rd, 5th, and 7th), along with any student as needed. Photo screenings take 5 to 10 seconds to complete, and a child's life can be transformed in a matter of seconds! With proper vision, CSISD students are ready to learn in all grade levels.
---
"Leads Ambassadors" - Multi-campus

The LEADS program instills a sense of leadership and service among the students of CSISD. LEADS Ambassadors have the opportunity to create community-based projects that may not be possible through the school budget. Students learn the value of community and get to see the impact of their voice and efforts on the community in which they live and learn. The grant engages over 100 5th-8th grade students at Cypress Grove, Oakwood, Pecan Trail, CSMS, AMCMS, Wellborn MS, and projects benefit the entire schools. Our sincere thanks to CHI St. Joseph Health for sponsoring this grant!

"Lighting Up Science and Math" - South Knoll Elementary

The spotlight shines on science and math for kindergarten students, as teachers incorporate light tables into their daily stations. Light tables allow children to explore science and math concepts in an exciting, hands-on way. Shapes, numbers, nature, senses, sources of light, simple machines, physics and movement come to life with experiential learning. This grant benefits 150 students each year at South Knoll Elementary. Thank you Copy Corner for sponsoring this project that lights up the joy of learning.