Fresh Air & Sunshine Make the BEST Classroom!
---
Southwood Valley Elementary
lead teacher: Stephanie Henson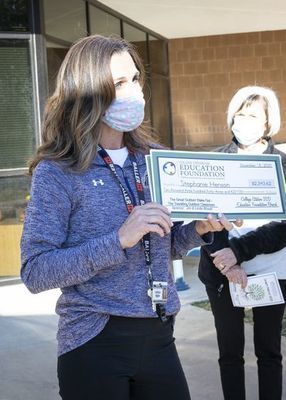 "Great Outdoor Stake Out"
Teachers at Southwood Valley Elementary created the "Great Outdoor Stake Out" – a portable outdoor classroom for students. It was one of six outdoor learning spaces that the Education Foundation funded at several campuses this year to combat COVID requirements for masks and social distancing.
The portable classroom creates outdoor learning environments to increase student's fresh air intake, provide engaging learning opportunities and increase social-emotional health. The "travelling outdoor classroom" consists of 15 lawn umbrellas, security lawn stakes, waterproof outdoor foam mats for seating, utility carts and a portable PA system.
Southwood Valley is one of the oldest campuses in the district, and while there is ample outdoor space, very little of it has covered areas to encourage outdoor play or learning. The grant helps meet the need for expanded, flexible learning space – easing the burden of COVID-era restrictions and that hot Texas sun!
Students in kindergarten through fourth grade are excited about having a shaded, socially-distanced outdoor learning area. Teacher have fun things planned…
Reading and discussion groups
Writing poetry about things observed or heard outdoors
Creating art from natural resources
Challenging students to create geometric designs from outdoor objects
Graphing for the types of clouds observed
Playing games and stress relief exercises
The project cost $2,300 and will provide fresh air learning for 300 students a year. Thank you to Jim & Linda Woods for sponsoring this colorful classroom!
Click here to explore other Education Foundation Showcase Grants!
Southwood Valley Outdoor Classroom - Ms. Adams & Mrs. Van Wagoner's 3rd Grade classes
Pictured above: Southwood Valley Outdoor Classroom - Ms. Adams & Mrs. Van Wagoner's 3rd Grade classes enjoying learning outside!