Eat, Drink, Give to Kids!
---
Our 13th Annual 50 Men Who Can Cook is Friday, February 7 at 6:30 pm at the Brazos County Expo.  Click HERE to purchase event tickets.  Need more information?  Call our office at 979-694-5615 or email givetokids@csisd.org.
---
How it works...
Local community and school leaders are selected to prepare their recipe of choice including salads, soups, sides, entrées or desserts.  Each Celebrity Chef is asked to bring 800, 2 oz. samples for our guests to taste at the event.  Tickets are $60 each which gets you entrance into the event and includes all the food you can taste and adult beverages of your choice.  This year mystery bags and a raffle will offer guests opportunities to support our schools.  You also get to vote for your favorite appetizer/salad/side dish, soup/chili, entrée, and dessert for the awards that will be presented at the end to our Celebrity Chefs.  This is an "adult-oriented" event and guests are discouraged from bringing children.
---
Silent Auction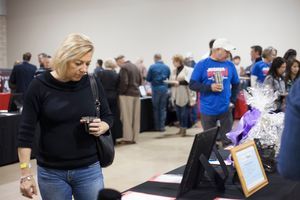 We have gathered some great offerings for the 50 Men Who Can Cook Silent Auction! You can early bid on many of these of these items or make your list of  "must haves".
Take a look!
---
2019 50 Men Who Can Cook Winners
2019 Winners

BEST APPETIZER: Mark Nolan & Randy Trenary, Capsher Technology, Inc., "Bacon Wrapped Kiolbasa Bites" ; BEST SOUP/CHILI: John Hairell & Mark Hluchan, CSISD Facilities, "Smoked Brisket Gulag Goulash"; BEST ENTREE: Omar Espitia, Josh Symank & Rocco Grande, A&M Consolidated MS & Oakwood Intermediate, "Holik Street Tacos "; BEST DESSERT: Scott McCollum & Billy Couch, College Station Police Department, "Building Smiles - One Bite at a Time"; BEST DECORATED BOOTH: Adam Snidow & Brett Lawler, CC Creations, "Sloppy Joes"; MOST TICKETS SOLD: John Morgan, Webber Commercial Construction